About Teradomari Aquarium in Nagaoka
This aquarium is surrounded by the sea. You will enjoy watching not only creatures in the hall but also a variety of natural creatures such as Umineko, colorful seaweed and lots of fish. The sea shows us various scenes varied by seasons and weather. You can also see Sado island in the distance and feel incense of the beach carried by the wind closely.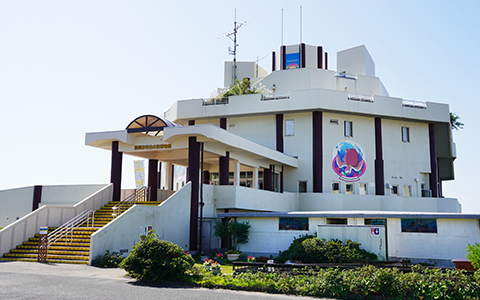 Featured event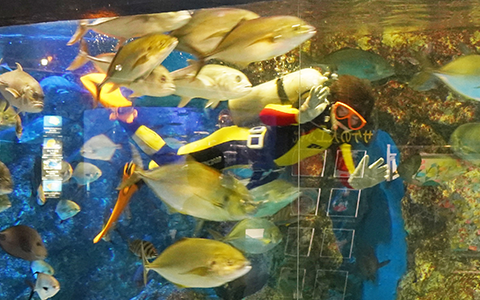 Feeding shows by divers
A diver feed bait to fish directly in a water tank.
Note:It's sometimes canceled by convenience.
Show schedule
| | |
| --- | --- |
| Morning | 10:15 11:30 |
| Afternoon | 1:30 3:00 |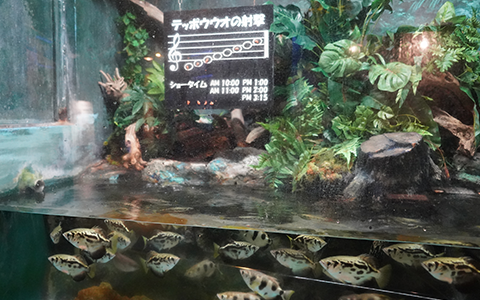 Food catching shooting show of the archerfish
An archerfish is a unique fish which splashes water, strikes down bait and eats. You can watch them skriking down.
Show schedule
| | |
| --- | --- |
| Morning | 10:00 11:00 |
| Afternoon | 1:00 2:00 3:15 |
Floor Map
Men's room
Ladies' room
Accessible toilet
Elevator
1F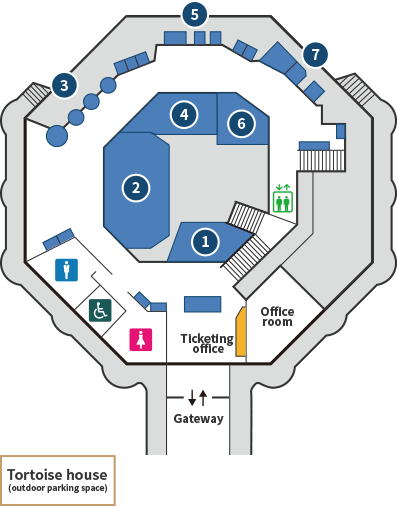 1

A large water tank of seawater temperate zone

A big seaturtle is meeting

2

A big curcuit style water tank

Large fish swim leisurely in a large tank which contains 100tons of quantity of water.
Feeding shows by divers are carried out.

5

Freshwater tropical zone water tank

Food catching shooting shows of the archerfish are carried out.
3

The seawater tropical zone water tank

6

The seawater frigid zone large water tank

7

The seawater frigid zone water tank
2F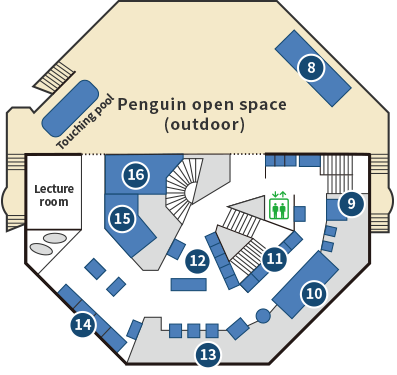 10

The freshwater large water tank

11

The world freshwater fish area

14

The Country side forest area in Naogaoka-city

15

Freshwater turtle water tank
3F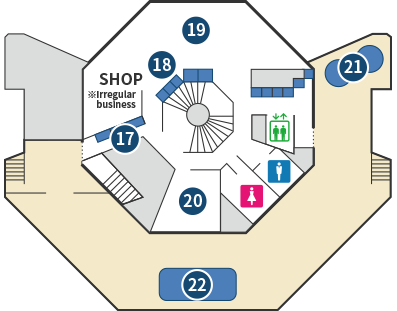 You can see Japan sea and Sado island.
Vending machines are available.

20

Special exhibition room

fees
※Credit cards are not available.
Private
group


(20 or more)

Disabled discount fare
Disabled group


(20 or more)

Adults
¥700
¥500
¥350
¥250
Junior high school students
¥450
¥300
¥225
¥150
Elementary school students
¥350
¥250
¥175
¥125
Pre-schoolers


(aged 3 and over)

¥200
¥150
¥100
¥75
About Disabled discount
It applies to a person with a disability certificate.
The presentation of the certificate (a copy is possible) or a certificate of a facilities representative becomes necessary at the time of entering this building.
Operating hours
9:00~16:30
※Admission ends at 16:00.
Closed days
Open 365 days a year. Subject to temporary closures for facility inspections, so please check at the calender of our website.
Access

By car (Expressway)
| | |
| --- | --- |
| From Tohoku area | Hokuriku Expressway 35mins from Sanjo Tsubame IC |
| From Kanto area | Hokuriku Expressway 35 mins from Nagaoka kita Smart IC (exclusive ETC) 35 mins Nakanoshimamitsuke IC |
| From Kansai and Hokuriku area | Hokuriku Expressway 35 mins from Nishiyama IC |
Parking Area (Free)
150 Passenger Car 8 Motor Coach

By Train or Bus
| | |
| --- | --- |
| By Shinkansen | JR Joetsu-Shinkansen 60 mins by bus from Nagaoka station (stop over at Teradomari Suizokukan mae) |
| Conventional railroad lines | JR Echigo line 10 mins by bus from Teradomari station (stop over at Teradomari Suizokukan mae) |